Christmas on the Farm
Nothing quite compares to the smell of a fresh evergreen tree, and spending a winter day finding just the right one is a memorable family experience. Larson's Family Farm offers more than eighteen acres of cut-your-own Christmas trees in the following varieties: Caanan Fir (Like Fraizer Fir), Concolor Fir, Blue Spruce, Norway Spruce, Scotch Pine, and White Pine.
We provide visitors with saws for cutting trees. After trees have been cut, we shake out excess needles and, if desired, we bail your tree with a net that makes transporting the tree much easier. Using our own greens, we make three sizes of fresh evergreen wreaths, decorating them with dried flowers in seasonal colors and natural pine cones. We also sell evergreen roping you can use to drape on your staircases, doorways, or entryways. We are happy to fill custom orders of wreaths and roping.
On a cold December day, you may want to slip inside our Barn Store to view a fine display of affordably priced antiques, vintage holiday decorations, and Christmas gifts. Our own spiced apple cider will warm up your hands as you look around.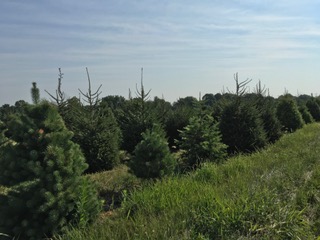 Closed When Raining and please call when snowing
815-786-2249
Christmas Season Hours and Prices
We open our cut-your-own Christmas tree season the Friday after Thanksgiving Day with special sales hours from 9:00am-4:30pm. Our regular hours begin the next day and continue through Sunday, December 9, 2018. During our regular hours we are closed on Mondays, open 2:00pm-4:30pm Tuesday-Friday, and 9:00am-4:30pm each Saturday and Sunday.
All Christmas trees --- $38.00 Tax Included
Large wreaths --- $32.00
Medium wreaths --- $18.00
Small wreaths --- $14.00
Evergreen roping --- $1.00 per ft.
Tree disposal bags --- $1.00
We Accept cash & checks only
No Credit or Debit Cards